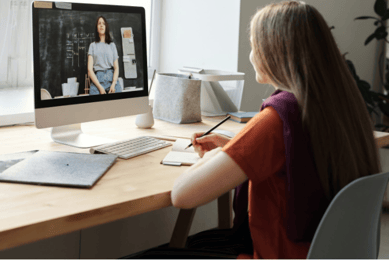 As the impact of COVID-19 is being felt worldwide, learning institutions have had to adapt in these unprecedented times. Currey Ingram Academy students and thousands of school children across the country have transitioned to distance learning this week. This can be a challenging time for everyone as diving into distance learning is a new experience for many. But do take heart, as there are strategies that can help you sail through these waters with ease.

Help children understand that it's school as usual. Consider the Currey Ingram Academy private school in Brentwood is up and running. It's important to identify the similarities in distance learning and in-person classes at Currey Ingram Academy. Faculty and staff will ensure distance learning is as close to the normal school as possible. Expectations regarding student behavior and academic progress will remain the same. Remind your children that they are still learning, albeit in a different environment.
Teachers will still be teachers. This is a challenging, tiring, and frustrating time for both parents and teachers. Currey Ingram Academy teachers will still be there to support you and help maintain normalcy during this time. As school-related questions and concerns arise, the Currey Ingram Academy team will be there to answer your questions and concerns.
Establish structure and routine. Students thrive in structure and routine. It gives them a sense of security and control mastery in their lives. The Divisions have provided daily and weekly schedules that create a framework for their student's school day.
Set a routine where your children do the same activity at the same time. Habits and consistency can help mitigate future issues.
Designate a study area in your home that is quiet and comfortable space where students can concentrate on their schoolwork. Having a study area is even more important with the distance learning model in place because your children are not just doing their homework; they are actually in school.
Engage with your children. Confirm that your children understand their lessons by asking them to verbalize ideas or demonstrate.
Break lessons into bite-sized pieces. A tried and tested strategy is to take a complicated concept and break it down into smaller, easy to understand segments. This is applicable at all learning levels.

Imagine a primary student learning a new word such as responsible. Presenting the word and asking the reader to say it at once can be overwhelming. Breaking the word into small parts - or phonemes - will allow the student to articulate and combine these phonemes to sound out the word. The same strategy can also be applied to higher-level concepts.
Be generous with positive reinforcement. Positive reinforcement is more effective than punishment in modifying unwanted behavior. Catch them being good. Praise your children when they exhibit behavior expected of them and do this repeatedly.
Empower them to make decisions. Whether it's deciding which books to read or which art materials to use, there will be plenty of opportunities for your children to make choices throughout the day. Giving your children the freedom to decide on how to go about their tasks will boost their confidence.
Stay in touch. While COVID-19 is separating us physically from one another, we still want to be emotionally connected to people who matter to us; it's human nature to seek the warmth and comfort of a community. We can do away with the phrase social distancing and use physical distancing instead. Currey Ingram Academy will develop and implement processes to strengthen the social and emotional network that we have established. Expect our counselors, faculty, and administrators to reach out and maintain meaningful connections with students and their families. Support, hope, love, and encouragement are important. Perhaps now more than ever.
Distance learning is continuously evolving. As a premier private school in Brentwood, Currey Ingram Academy has excelled in the art and science of educating students with learning differences for the past 51 years. However, recent events have quickly disrupted the model we have established. As we learn more about the nature and complexity of this challenge, trust that Currey Ingram Academy's distance learning model will get better; we are far from its final iteration. We are confident that the dedication and expertise of our faculty and staff will be a beacon of light leading us to a safe harbor.
We value your trust. Please reach out as needed; we would be happy to help with your children in any way we can.